Bowling News

Delgado consistent on way to top series (May 19, 2019)

Pablo Delgado was consistent during Monday Mixed League action to run away with the weekly high series honors.

More . . .

Garcia tops bowlers for high series (May 12, 2019)
I have been waiting for the day that I could see the above headline again. After not having bowled a 700 series in local competition for the previous five years, perseverance paid off and I was able to roll four 700 sets this year. On the last day of this season's Over The Hill League play, I posted individual games of 238, 233 and 247 for a 718 total, which was my high for the year and also good enough to take the weekly honors. More . . .

VUSBC Tournament Results:

VUSBC Open City Tournament 2019 - April 7-14 - Final Prize Listing

City Champion: Mike Stacy 2,036 (Team: 705 Doubles: 675 Singles: 656)

Open City Champion - 2019 - Mike Stacy
VUSBC Women's City Tournament 2019- April 7014 - Final Prize Listing
City Champion: Samantha Wharton 1,728 (Team: 486 Doubles: 611 Singles: 631)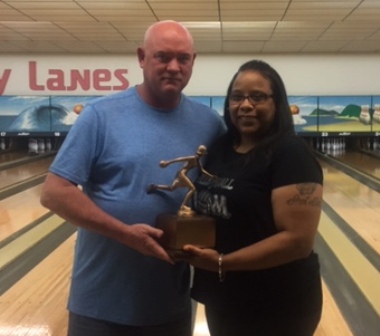 Women's City Champion - 2019 - Samantha Wharton

VUSBC Senior Tournament 2019 - April 3-6 - Final Standings
Senior All Events Champions: Jack Mitchell (Male) / Joanna McNary (Female)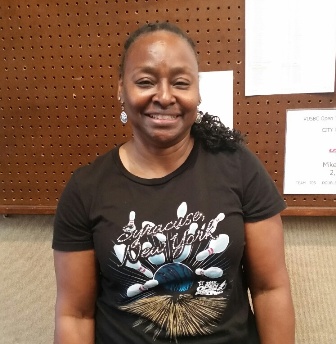 Jack Mitchell Joanna McNary
VUSBC Mixed Doubles Tournament 2019 - 2/23/2019
1st Place Justin Tweedle and Christine Speer (1,438)
2nd Place Patrick Visconti and Niki Visconti (1,376)
3rd Place Sharon Guinn and Mike Stacy (1,321)
AWARDS
300 Games - Congratulations Bowlers!
Tom Crowe 9/10/2018 Monday Mixed League
Tom Crowe 4/25/2019 Sundowners League
Glenn Mason 10/18/2018 Sundowners League (1st 300 game)
DoLee Knowlan 10/22/2018 Monday Mixed League (1st 300 game)
T J Mooney 11/15/2018 Sundowners League (1st 300 game)

Glenn Mason - 300 Ring Presentation T.J. Mooney - 300 Ring Presentation DoLee Knowlan - 300 Ring Presentation
Victoria USBC Hall of Fame
Patricia Bellanger, Jacob Silgero, and Samantha Wharton inducted into the Victoria USBC Hall of Fame - 2018
Patricia Bellanger, Jacob Silgero, and Samantha Wharton were inducted inducted into the Hall of Fame during the Hall of Fame ceremony held on July 28, 2018 at the Vera Cruz Restaurant. More . . .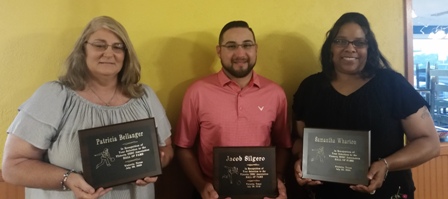 Victoria USBC Scholarships

Koebrick and Charbula earn VUSBC Scholarships
Bailey Koebrick and Chris Charbula were named recipients of the 2018 Victoria USBC Scholarships at the annual VUSBC Installation Dinner and Hall of Fame Induction ceremony held on July 28, 2018.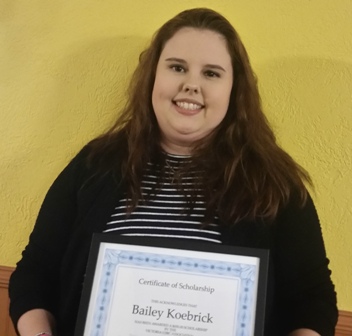 Bailey Koebrick Chris Charbula
Summer Leagues
Interested in joining a Summer league? For more information contact the league contact listed below OR contact Century Lanes at 361-576-1166 (www.centurylanes.com)
Tuesdays
Funtappers No-Tap* League (12 weeks)
*[get 9 on the 1st ball = Strike!]
5 Members - Mixed
Meets: 05/07/2019 @ 7pm
Starts: 05/21/2019 @ 7pm
Contact: Cecilia Wilson 361-572-9359 or 361-648-7950
Thursdays
Rolling Thunder League (14 weeks)
4 Members - Mixed
Meets: 5/16/19 @ 8pm
Starts: 5/23/19 @ 7pm
Contact: Lori Hammack 361-214-0400

Sundays
Summer Sunday Strikers (10 weeks)
4 Members - Mixed
Meets: 6/9/19 @ 8pm
Starts: 6/16/19 @ 7pm
Contact: Rose Osterson 830-254-0098
Saturdays - Youth Leagues [Ages 5 to 21] 8 weeks
Pee Wee [ages 5 - 8] bumpers - 2 games per week
Bantams [ages 9 - 14] 3 games per week
JMS [ages 15 - 21] 3 games per week
Meets: 06/15/19 @ 1pm
Starts: 06/22/19 @ 1pm
Contact: Mike Wortham 361-576-1166
or contact: Century Lanes 361-576-1166